This page is a candidate for deletion.
This page has been recommended to be deleted under The Sims 2 DS Wiki's deletion policy. Remember to check what links here and the page history before deletion.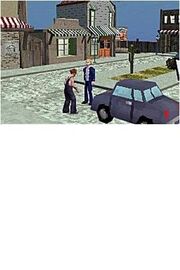 The 
car 
is the vehicle that the player's sim is driving when they break down in
Strangetown
. It appears as a compact 1950's Chevy Chevelle, in which when the player gets out, he/she kicks off the side hub-cap and sends it spinning somewhere. It cannot be interacted with by your sim once the game starts. It remains in the same place until
Ava Cadavra
arrives and it disappears. Later in the game when she leaves,
Jebediah S. Jerky
tells you that he is still looking at it but that's the last time it's mentioned. When the user completes the game, the car reappears, engine fully operational and the tailpipe letting out exhaust. This sign may be an indicator that the player is able to go at the end of the completed profile, but it is unknown. However, the car disappears after the credits as a sign that the user will stay and run the
hotel
.