For the music, see Create-A-Sim (song).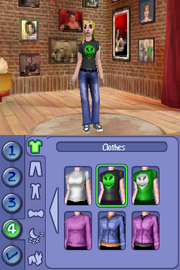 Create-A-Sim is a part of The Sims 2 and various other The Sims games where the player gets to create their sim.
In The Sims 2, there are 5 parts to creating a sim. These are their name, their face and skin tone, their hair, clothing, and finally their aspiration. Their clothing and hair can be changed in the game by using either a dresser or a mirror, and skin tone can be changed by using either the Tanning Bed in the Spa & Gym or the Mod Bed after purchasing it from the store from being the special item in April. Their face and aspiration, however, cannot be changed.