For the music, see Create-A-Sim (song).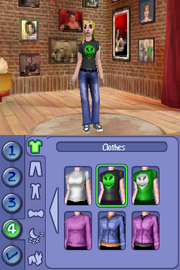 Create-A-Sim is a part of The Sims 2 and various other The Sims games where the player gets to create their sim.
In The Sims 2, there are 5 parts to creating a sim. These are their name, their face and skin tone, their hair, clothing, and finally their aspiration. Their clothing and hair can be changed in the game by using either a dresser or a mirror, and skin tone can be changed by using either the Tanning Bed in the Spa & Gym or the Mod Bed after purchasing it from the store from being the special item in April. Their face and aspiration, however, cannot be changed.
Ad blocker interference detected!
Wikia is a free-to-use site that makes money from advertising. We have a modified experience for viewers using ad blockers

Wikia is not accessible if you've made further modifications. Remove the custom ad blocker rule(s) and the page will load as expected.