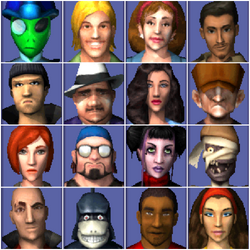 This is a 
list of characters 
in
The Sims 2
. Most of the characters are either residents or guests, however there are still a number of minor immobile characters, goons and other invaders.
There are several types of sims:
Residents  - These are the people who live in Strangetown and can't be checked into the hotel.
Guests - They can be checked into the hotel whilst vising Strangetown.
Immobile characters - Characters who you cannot interact with (e.g. Impress, Cheer Up, etc.) and who do not move from their fixed location (e.g. behind a bar). The only main Immobile character to be interacted with as in having a conversation is the Concierge, as he gives your character advice and helps out at the beginning of the timeline.
Goons - They are gangs of men who will arrive to steal money from you. There are two goon gangs. They can't be interacted with apart from banishing them as the Ratticator. The only known Goon to be interacted with is Jimmy the Neck, as the player must pay him 1500 simoleons in order to free hotel guests.
Aliens - Aliens will appear during an invasion and can't be interacted with. The exception is Emperor Xizzle but he is classed as a main character and plays a part in the main line of goals.
Robots - They will also appear during an invasion and can't be interacted with. Once again, Optimum Alfred is an exception but he is only a guest and antagonist during the timeline.
Antagonists - These are sims who have a main part in the storyline and each stay in the Penthouse.
Other - This includes sims who appear in the game but do not fit into any of the above categories.
This is a list of the main characters. This excludes NPCs, goons and Xizzle's minions.
| Image | Name | Bio | Role |
| --- | --- | --- | --- |
| | Emperor Xizzle | BEHOLD! Alien Emperor Xizzle the Feared! The Reviled! The UNINTELLIGABLE. | Alien |
| | Ara Fusilli | Ara is the smart, sassy, and terminally bored daughter of Frankie Fusilli. | Guest |
| | Auda Sherif | This big-budget action film star put the 'Oo!' in boom! | Guest |
| | Ava Cadavra | Ex-drummer for the band The Germinators, Ava now spends most of her time brooding. | Antagonist, Guest |
| | Bigfoot | For decades people assumed Bigfoot was a mere creature of rumor and imagination. | Other |
| | Frankie Fusilli | Frankie Fusilli runs this town, understand? Don't cross him or you'll be rubbed out. | Antagonist, Guest |
| | Dusty Hogg | Dusty has a mean streak much longer than his patience. | Guest |
| | Giuseppi Mezzoalto | Since moving here from SimValley, Giuseppi has gone from criminal to "shady guy". | Guest |
| | Kayleigh Wintercrest | Intelligent and enigmatic... many have tried to woo this brilliant scientist. All have failed. | Guest |
| | Luthor L. Bigbucks | Luthor is the handsome, arrogant son of Mr. Bigbucks. Easy to hate, but impossible to ignore. | Guest |
| | Misty Waters | Lifeguard turned successful fitness guru, Misty is in Strangetown to live large. | Guest |
| | Lord Mole | Ruler of a subterranean race of mole people, he is a feisty lad with Utopian dreams. | Other |
| | Horus Menhoset IX | He is the son of Horus Hipsomet the 4th, grandson of Horus Palimpsest the Plinth. | Other |
| | Optimum Alfred | A robot whose A.I. proved so sophisticated he was nearly elected governor of SimNation. | Antagonist, Guest, Robot |
| | Penelope Redd | Penelope was sent here by the FBI to investigate a matter of urgent import. | Guest |
| | Pepper Pete | Pete is in Strangetown searching for a few good oarsmen to join him on a fool's errand. | Guest |
| | Kent Hackett | Once the star of a sci-fi TV program, Kent now basks in his cult status as an old dork. | Guest |
| | Sancho Paco Panza | Sancho earned his masters in Zoology two years ago. Now he just hangs out. | Guest |
| | Tank Grunt | Tank injured his funny bone in combat. This left him permanently without a sense of irony. | Guest |
| | Mamma Hogg | The only woman tough enough to keep Dusty in line - his mother. | Resident |
| | Honest Jackson | Mayor Jackson rose to prominence after beating Andy Scandal in the race for mayor. | Resident |
| | Jebediah S. Jerky | Jeb wants to revive his old farm, but he can't remember what he used to grow. | Resident |
| | Tristan Legend | More handsome, witty, and talented than anyone on Earth. Tristan will build all of the rooms to the hotel if you have a permit. And he cooks! | Resident |
This is a list of Emperor Xizzle's minions.
This includes two gangs of goons.
Jimmy the Neck's gang
Edit
Crime Spree Bob's gang
Edit
This is a list of the robots who will invade. This excludes Optimum Alfred as he is only part of the gang at the end of the game. At one point during Optimum Alfred's stay, Mamma Hogg requests that someone stop the robots invading the town, and they are all named PAL-8000. However, with other robot invasions, all four robots eventually appear. PAL-8000 has the same appearance as Optimum Alfred in the profile icon, but appears much brighter when walking around. In robot invasions, there's no clear leader. Although PAL-8000 is always the first to appear, there's no implication that he has any leadership of the attacks.
Immobile characters
Edit
This is a list of all characters who cannot be interacted with like other sims and do not move from their location. All except the casino dealers can be interacted with in some way, like buying items from them.
Miscellaneous
Edit
This is a list of all other characters in the game. Some of which appear on the interact screen whilst others don't and only make brief appearances.
| Image | Name | Availability |
| --- | --- | --- |
| | Ghost | Goes around the hotel when the Cute Ghost Painting is purchased and placed in a room. |
| | Grim Cowboy | Seen when hygiene, hunger or thirst reaches zero. Brings your sim back to the Manager's Suite. |