The Lottery Machine is an object located in the store where your sim can purchase scratch cards in The Sims 2. Tickets can be purchased for either §1, §5 or §10 with rewards ranging from 10 to 100 simoleons depending on the amount spent. In order to win, you must scratch 3 identital symbols from a choice of 8 boxes. Per game, you may scratch 5 boxes in total.
Scratch cards
Edit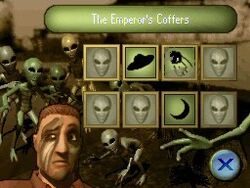 There are three scratch cards (tickets) available to purchase, all for different prices. Depending on the one chosen, the reward along with the theme of it will differ, but the reward is 10 times the amount of the cost of the ticket. Below is a list with information on each.
§1 - "Cash Mummy", reward of §10
§5 - "Milking For Moo-lah", reward of §50
§10 - "The Emperor's Coffers", reward of §100
Ad blocker interference detected!
Wikia is a free-to-use site that makes money from advertising. We have a modified experience for viewers using ad blockers

Wikia is not accessible if you've made further modifications. Remove the custom ad blocker rule(s) and the page will load as expected.