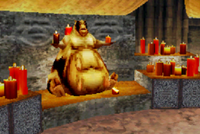 The Prime Heifer was a statue and also possible an icon of a bovine cult in The Sims 2. It was located in the Bovine Shrine which was requested to be built by Ava Cadavra during her stay in the Penthouse.
The statue was wordshipped by three sims; Ara Fusilli, Auda Sherif and Sancho Paco Panza for a brief period of time. It is possible that they were tricked into doing this by Ava. When Horus Menhoset IX calls you, he instructs that the Prime Heifer must be destroyed. After a series of goals, he tells you to shatter the statue with the branding iron which is found in Strangetown Jail.
After the Prime Heifer is destroyed, Ava Cadavra goes on a strop and leaves the hotel.
Ad blocker interference detected!
Wikia is a free-to-use site that makes money from advertising. We have a modified experience for viewers using ad blockers

Wikia is not accessible if you've made further modifications. Remove the custom ad blocker rule(s) and the page will load as expected.