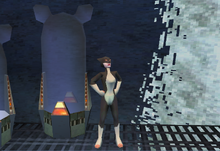 The Ratticator is, to the people of Strangetown, an unknown assilant who "saves the day" in The Sims 2. In actual fact, the Ratticator is your sim in the rat outfit. As the Ratticator, your sim can clear goons, robots and aliens. Although aliens can also be eliminated with the Super Drencher, this method is a lot quicker. The rat outfit is unlocked when the player purchases the Rat Cave as it is located inside. The Ratticator plays a major role at the end of the game, as it is required to be used well in order to defeat Optimum Alfred.
Ad blocker interference detected!
Wikia is a free-to-use site that makes money from advertising. We have a modified experience for viewers using ad blockers

Wikia is not accessible if you've made further modifications. Remove the custom ad blocker rule(s) and the page will load as expected.